Cycling In Lake Como
Lake Como is a great destination to include in your Italian cycling plans. You can road bike and mountain bike comfortably from the beginning of April to the end of October on a variety of roads and mountain bike trails.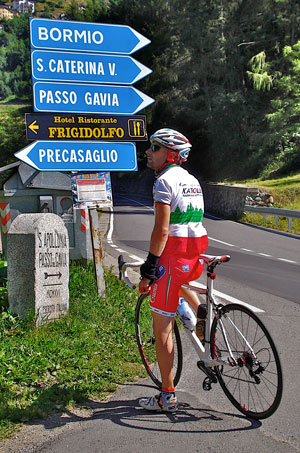 Walter, bar tender at Griante's Vecchia Torre and an incredible cyclist, ready to climb Gavia.
If you are an experienced road cyclist looking for the challenge of a long or a steep ride, Lake Como has a few options. The road around the Lake, although busy at times and challenged in a few places with long tunnels, is spectacularly scenic and offers a number of loop options thanks to the ferries that operate in the middle region of the lake. This route does not have a lot of climbs, but if climbing is what you are looking for there are a number of well recognized options such as the Ghisallo which is featured every year in the Tour of Lombardy and frequently in the Giro of Italy.
If you prefer mountain biking, Lake Como has many trails in and around its mountains with varying levels of difficulty. Access to all of these trails will require you to cycle on portions of the main road around the lake or take a car to the trail head.
Lake Como can also serve as a great gateway to some of the best cycling in the world which can be found in nearby Valtellina and Switzerland. In the Valtellina you will find some of Italy's (and indeed the world's) most epic road biking routes such as Gavia, Mortirollo, and Stelvio. In St. Moritz, Switzerland, the network of mountain biking trails for all levels of cyclist is truly mind boggling.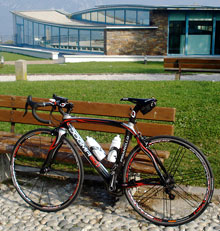 Museo del Ciclismo
The Passo del Ghisallo is a famous cycling route that is occasionally featured in the Giro d'Italia, and almost always in the Tour of Lombardy. It is accessed most often from the town of Bellagio situated at the tip of Lake Como's prominent peninsula.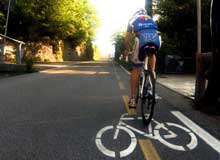 Cycling around Lake Como
160 km ride that will let you see all of Lake Como's lake side villages.