ÿþ
La Vecchia Torre Bar
La Vecchia Torre, which means the old tower, is a quaint and historical bar located in Griante. The bar gets its name from the fact that its building may have been one of four towers of a medieval castle. For sure it's an old and beautiful building. It's made of stone with arched ceilings like those found in some of the oldest parts of Italy.

Inside La Vecchia Torre
For many years the building served as a farmhouse with stable and barn until it was restored and converted into a bar and tavern by the Martino Luculli and his wife Luisa in the seventies. Today, La Vecchia Torre is a bar and snack-bar pub run by Martino's two sons Ivan and Walter.
The bar's interior is characterized by cosy rooms made of bricks and stones, but it also has a large garden patio at the back and a street side patio at the front. Inside you will find decorations and paintings made by Martino.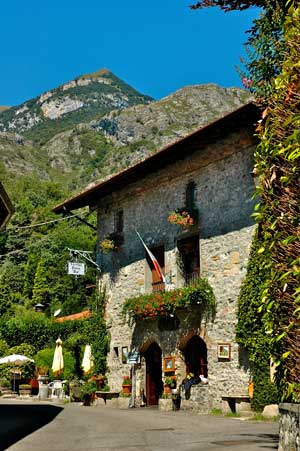 La Vecchia Torre
If you are passing through Griante, such as on your way up to or back from San Martino, stop in for a cold drink, a beer, or a cappuccino. If you want to see and hear northern Italians speaking the local dialect and sipping on a glass of white wine at 10 in the morning, this is the place to go.
A cosy place to stop for a drink, sing Karaoke on Friday nights, or get a cycling tip!
If you're out for a stroll in the evening, La Vecchia Torre is a great place to stop for a glass of wine or a pint of beer. And every friday night all year long the bar hosts a Karaoke party. You can show off your singing skills by choosing from a library of thousands of Karaoke back tracks.
And a quick tip: if you're an avid cyclist try to connect with Walter who is usually tending the bar. He'll tell you where to find the best ride, mountain bike or road. If you're lucky he may even offer to take you out on a ride, he rides thousands of kilometers per year!
Note: the bar is usually closed on Tuesdays.